On-Target Real Estate Appraisal Services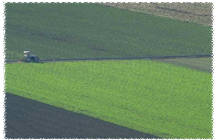 Staley Real Estate is proud to offer complete real estate appraisal services. With more than 10 years of experience in this area, the Staley name carries clout. You can trust Staley Real Estate for accuracy and on-target appraisal services - no matter how large or small the job may be.

Our experience works for both the buyer and the seller! Brad Staley, owner of Staley Real Estate, heads up the appraisal division and offers you one-on-one consultation and advice. Get the information and the answers you need, quickly and accurately, from Brad today.
Whether you're listing, buying or just looking for a residential home, a family farm, an acreage, building lot or piece of commercial real estate --
Contact Staley Real Estate!